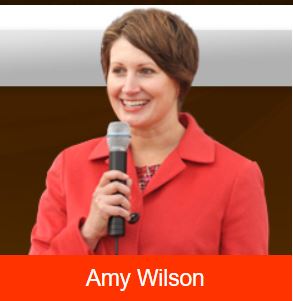 Amy Wilson is a software industry visionary with over 15 years of experience focused on the intersection of people, business, and technology.  Amy is founder of Wilson Insight, an independent research and advisory firm, and VP & Principal Analyst at Constellation Research Group.
Prior to joining the Constellation team, Amy drove the product strategy for Oracle's next generation Strategic HCM Fusion applications.  By combining deep customer insight with Oracle's emerging technologies, Amy was able to create a set of products that wowed and inspired the community.
Amy has a proven track record of listening, connecting, and delivering value to customers; an inventor of multiple patents, Amy has consistently leveraged new, disruptive technologies to bring that value.  Prior to joining Oracle, Amy served as product strategist, development manager, and implementation consultant at PeopleSoft.  Amy was a driving force in building PeopleSoft's professional services automation product line as part of the first web-browser application set, PeopleSoft 8.0.
Amy is an active and enthusiastic participant of the HR blogging community, having shared insight and opinions on the industry-recognized group blog TalentedApps she co-founded in 2007.  She now blogs under the moniker Shiny & Useful here on her site wilsoninsight.com.
Amy has presented at notable industry conferences including The Conference Board, TED, HCI, and Bersin IMPACT, and has drawn large crowds at PeopleSoft Connect, Oracle OpenWorld, and the Oracle HR User Group.  Amy's audiences appreciate her creative and enthusiastic style as well as her ability to provoke a new way of thinking.
Amy holds a Bachelors of Science in Economics from Cornell University.
For Amy's full career bio
After graduating with a B.S. in Economics from Cornell University (with concentrations in Psychology, Mathematics and Computer Science), Amy launched into financial consulting at Arthur Andersen.  A couple of years later, in 1997, she set her sights on a bay area company that was clearly going places – PeopleSoft.  With much persistence, Amy landed an implementation consulting role; over the first year, she designed, built, implemented, and supported a custom end-to-end consulting services operation system.  It was her dream job with a dream team – full of learning, collaboration, and impact.
At PeopleSoft, Amy continued to tackle new opportunities, including running development teams – adding more products and people to her portfolio each year, and product strategy – which suited Amy's creative energies perfectly.  All told, at Peoplesoft Amy held responsibility for ten different products across three product lines from PeopleSoft 8.0 to PeopleSoft 9.0.  More importantly, she listened and connected with customers to build tools that were useful, usable, and in many cases, never before been offered.
In 2005 PeopleSoft was acquired by Oracle.  This was a challenging move, but ultimately Amy decided to join the Fusion team and build the next generation of Oracle (and PeopleSoft) applications.  She very much wanted to bring the good thinking from PeopleSoft into the Fusion products and to take the new applications to an even higher level.  For the next 5 years, Amy led the product strategy team for Fusion Talent Management, spending a great deal of time with customers, getting to the bottom of their issues and strategic plans, and focusing on leveraging the Oracle ecosystem of technologies and resources to build a set of applications that inspire a better way to approach talent management.
Today, Amy is conducting objective research and analysis on people technologies and practices through the independent analyst firm Wilson Insight she founded and in affiliation with Constellation Research Group. Amy provides insight and advice to both end-user practitioners and technology vendors in the hopes of realizing a better outcome at the intersection of people, business, and technology.